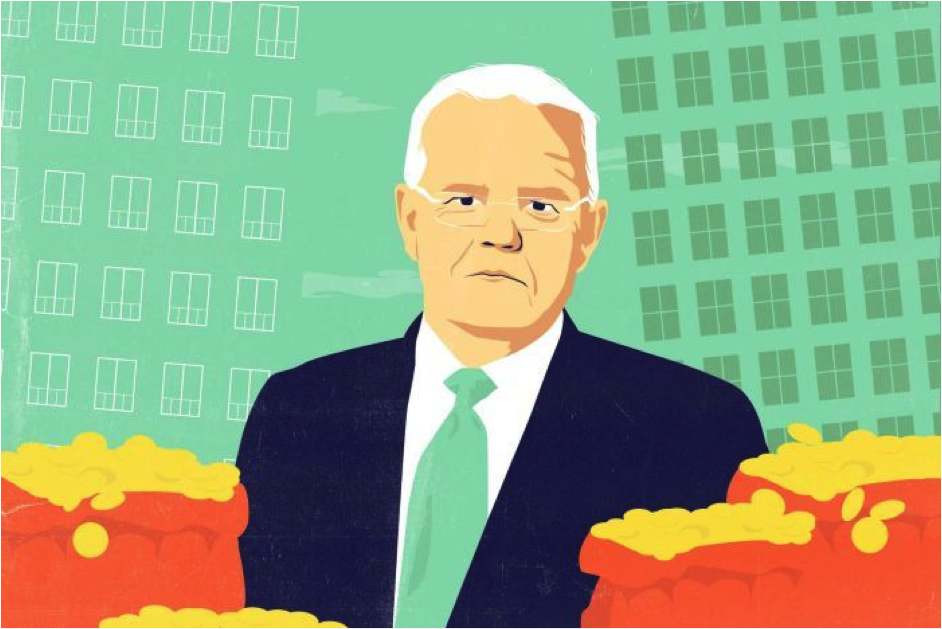 LAST UPDATED – March 31 2020

Download PDF
The Government's stimulus package, to offset the economic effect of Coronavirus, will be hitting the economy very quickly. The stimulus concentrates on the next 6 months hopefully a sign that the government expects a turn-around in the pandemic very soon.
The speed at which this is introduced but the sheer importance of making our readers aware of every advantage available to them puts us in a difficult situation. This blog will be updated regularly so please check back here. Sometimes it is difficult even to interpret legislation that has years of being tested through the courts. We will do our best as without quick action the advantages will be lost. So do your country a favour and line up for your share of the loot as best you can.
The Stimulus for Individuals:
If you are receiving a social security payment, you can expect to see an extra $750 in your bank account sometime in the first two weeks of April and another on 13th July. There is an exception to the 13 July payment if you receive the extra $550 per fortnight Coronavirus supplement which will be paid to recipients of the:

| | | |
| --- | --- | --- |
| Jobseeker Payment | Youth Allowance | Parenting Payment partnered or single |
The $750 payment is tax-free and applicable to the following social security recipients:

| | | |
| --- | --- | --- |
| Age Pension | Disability Support | Double Orphan Pension |
| Widow Allowance | Bereavement Allowance | War Widow Pension |
| Parenting Payment | Family Tax Benefit | Veteran Payment |
| Youth Allowance | Pension Concession Card Holders | DVA PCC Holders |
| Sickness Allowance | Veteran Compensation Payments | Newstart Allowance |
| Partner Allowance | Veteran Service Pension | Jobseeker Payment |
| Austudy | Farm Household Allowance | Widow B Pension |
| Carer Payment | Veteran Gold Card Holders | Wife Pension |
| Carer Allowance | Veteran Income Support Supplement | Special Benefit |
| DVA Education Scheme Recipients | DVA Income Support Pensioners at $0 rate | Commonwealth Seniors Health Care Card Holders |
| DVA Disability Pensioners at the temporary special rate | | |
The waiting period has been removed for sickness benefits when a casual employee is required to self-isolate or contracts the virus. One would think if you qualify and rush online to apply before the end of March, you may qualify for the first $750 as well.
Jobseeker payment has replaced Newstart, there is an income test but the asset test is waived and sole traders and casual workers qualify for this payment. Your spouse's income will be taken into account only if it exceeds $80,000. Sole traders will be able to continue to work in their business rather than look for work. So this is really like a farm subsidy, keeps your basic bills paid while you still keep your business doors open.
If you make your living from renting out your properties on Airbnb. Your income is probably now zero and you could be classed as a sole trader. Even though you might have many properties as assets, you should still qualify for this immediate payment of $550 per week plus one lot of the $750 (if you are quick).
Individuals experiencing hardship will also be permitted to draw $10,000 this financial year and $10,000 next financial year from their superannuation. Normally hardship payments are heavily taxed but these drawdowns will be tax free regardless of your age. To be eligible to access your superannuation you need to meet the following requirements:
• you are unemployed; or
• you are eligible to receive a job seeker payment, youth allowance for jobseekers, parenting payment (which includes the single and partnered payments), special benefit or farm household allowance; or
• on or after 1 January 2020: you were made redundant; or
• your working hours were reduced by 20% or more; or
• if you are a sole trader — your business was suspended or there was a reduction in your turnover of 20% or more
Timing is important here, the above concessions start in mid April and stop in mid October. Further, you only get one pick at the cherry each financial year so if you only withdraw $5,000 in 2019/2020 you can still only withdraw $10,000 in 2020/2021 effectively your maximum threshold is $15,000 instead of $20,000
For retirees the minimum amount you are required to draw down from super, for the 2019-2020 and 2020-2021 financial years will be halved. If you are receiving a part pension the deeming rates will also be reduced from 1st May, 2020. The lower rates will be .25% and the upper rate 2.25%. This, means unless you are on the maximum pension, expect an increase in your fortnightly payment.
The Stimulus for Business
The majority of the stimulus package is aimed at businesses. Not just small businesses either. With the threshold for the new $150,000 instant asset write-off and the 50% write off being available to businesses with a turnover of less than $500 million. There are also big cash hand-outs for businesses with a turnover under $50mil and wages subsidies for any size business that has had a drop in turnover.
Here is an analysis of how it should work for businesses.
Job Keeper Payment:
If the turnover of a small business has decreased by 30% or more, 50% or more in the case of big businesses, then all eligible employees are entitled to a Job Keeper payment of $1,500 per fortnight. The difference between a big and small business is a $1bil turnover threshold. The comparison period is the same month in the previous year.
The big news here is even if you have no employees, that is you are in business as a sole trader, if your turnover has dropped by 30% you can get the full Job Seeker payment for yourself and it is not affected at all by your spouse's income.
This is paid through the tax office to the employer for the next 6 months. One month in arrears. Employers need to register now at https://www.ato.gov.au/general/gen/JobKeeper-payment/ and report to the ATO monthly.
It does not matter if the eligible employee was only working part time and earning less than $1,500 a fortnight. They will now be paid $1,500 a fortnight by the government, through their employer. The employer won't actually receive any money from the government until the first week of May so there may be a catch 22 for cash strapped employers.
Eligible employees need to have been on the employer's books, full-time or part-time as at 1st March, 2020. If they are casual employees they need to have been regularly employed for more than 12 months before 1st March, 2020. It does not matter that they may have been stood down or sacked since that date. If their employer will take them back they still qualify for the Job Keeper payment.
Eligible employees can only receive a Job Keeper payment from one employer. The employee needs to be 16 years or older. Temporary residents do not qualify, with the exception of New Zealanders on the 444 visa.
The Job Keeper payment is taxable income to the employee. It is fully offset in the accounts of the employer. The employer is expected to continue to pay the superannuation guarantee on the normal wage. In the case of an eligible employee that was paid less than the Job Keeper payment and is now on a higher wage as a result of the Job Keeper payment, the employer is not required to pay the guarantee on the difference.
Employers register with ATO here https://www.ato.gov.au/general/gen/JobKeeper-payment/
No legislation yet but you can read what Treasury has to say here https://treasury.gov.au/sites/default/files/2020-03/Fact_sheet_Info_for_Employers_0.pdf
Immediate Asset Write Off:
There are some slight differences depending on whether your turnover is under $10mil or under $500mil. The basic concession is to allow small to medium businesses to immediately write off purchases of equipment costing less than $150,000 as long as it is installed and ready for use by 30th June, 2020. The equipment can be new or second hand and is also available for improvements to existing assets. It is important to note that the immediate asset write off threshold reduces to $1,000 from 1st July, 2020 and then is only available for businesses with a turnover of under $10mil, so that installed ready for use deadline is crucial.
Asset purchases that definitely do not qualify are horticultural plants, and building construction. If you are financing the purchase do not use a lease, it must be a loan so that you actually own the asset.
For all the fine print please refer out blog on immediate asset write off which is based on the original legislation with the figures and dates updated. https://bantacs.com.au/Jblog/the-25k-immediate-writeoff-clever-trick/#more-201
Most importantly you need to speak with your Accountant before you rush out and spend a lot of money when we are talking about such big sums. An immediate deduction might end up being more than your taxable income for the year, wasting your tax-free threshold and lower tax brackets. The net result could be better if the asset cost was actually depreciated over several years.
Now here is the fine print depending on the size of your business last financial year.
Turnover Under $10mil:
You are already allowed this write off for anything you bought this year that cost less than $30,000 providing of course it is installed ready for use by 30th June, 2020. This threshold is increased to $150,000 if the equipment is installed ready for use between 12th March, 2020 and 30th June 2020, even if you ordered it or paid for it earlier. That's right there may be a few factory owners thanking their electricians for being tardy. You could even have ordered the equipment as far back as 12th May, 2015.
This concession extends to allowing small business pools under $150,000 at 1st July, 2019 to be written off.
Turnover Over $10mil but Under $500mil:
You are only entitled to the $150,000 immediate write off if you actually ordered or acquired the equipment after 2nd April, 2019 but it was installed ready for use between 12th March, 2020 and 30th June, 2020.
50% Asset Write Off:
But wait! There is more, and this goes through to 30th June 2021, first used or installed ready for use. It only applies to brand new plant and equipment, not buildings. This applies to businesses with a turnover of under $500 million. The exclusions are buildings, horticultural plants, water facilities, fencing and fodder storage assets for primary production.
You must not have committed to the purchase of the asset before 12th March, 2020.
There is a possible trap here, the announcement says that this write off is available for 15 months to the 30th June 2021 so it would appear you need to wait until the 1st April or you will not qualify for this. This is probably only of interest to businesses after 30th June 2020 anyway otherwise they would be using the immediate asset write off. That is unless they intend buying equipment worth more than $150,000, then the 50% write off is the only option available.
This measure provides is an immediate deduction for 50% of the purchase price and installation costs. Then the remaining 50% is written off in accordance with normal depreciation rates. This depreciation starts in the year of purchase so you get the 50% deduction plus some depreciation. If the asset is placed in a small business pool then the write off and depreciation for the year will total 57.5%.
Up to $100,000 because you Employ Staff:
This payment is tax free!!! It is called the cashflow bonus. The turnover threshold is $50 million (previous financial year) and of course you have to have employees. It includes both small businesses and not for profit organisations.
The payments that will trigger this bonus include:
| | | |
| --- | --- | --- |
| Salary and Wages | Directors Fees | Compensation Payments |
| Eligible Retirement or Termination Payments | Voluntary withholding from payments to contractors | |
Now this begs the question, if you don't already have employees, when you are operating as a trust or company can you simply employ yourself? You may have previously taken your income just as profit share. If instead you take wages it will simply reduce the profit of the business but you may have to pay some super guarantee for yourself and Workcover in some states. Whatever wages tax you pay will just come in as a credit in your personal tax return that can be refunded if it is too much. Do interim accounts to make sure the wages do not push your business into a loss for tax purposes. If you haven't previously paid yourself wages from your company or trust you need to consider the anti rort provision further down this blog.
The maximum amount of stimulus you can receive for the 2019/2020 financial year is $50,000 with another $50,000 maximum bonus payment available in the first quarter of the 2020/2021 financial year. The great thing about this second $50,000 maximum is that it is simply based on what they paid you in 2019/2020. Now your March wages tax maybe quite high because you had plenty of business in that quarter but now you have had to put all your staff off. As long as you don't close down your business you should still get the second bonus in the first quarter of 2020/2021. The only requirement is that you continue to be active.
Do you get a W1 box on your BAS? If don't then you would need to register as a payer. This is quite a hot spot with the ATO but they are processing them. Please make sure you read the section on rorts below.
The normal payment will be made through the March and the June BASs. If you lodge monthly it will be spread over April and May as well unless you reach your $50,000 cap for that year.
Each BAS, the ATO will refund to you 100% of the amount of income tax withheld from wages up until you use up your $50,000 cap. If you lodge the PAYG instalments you withhold from wages on a monthly basis it will be assumed that your March withholding is representative of your February and January withholding. So for monthly remitters March is the best month of all to have the highest wages tax. Those employees that have given you a TFN declaration form requesting that they do not want to receive the tax free threshold with you are a real bonus!
Even employees who pay so little in wages that their employees do not have to pay tax, do not miss out. There is a minimum payment of $10,000 just for the fact you pay wages. The $10,000 is per business not per employee or per BAS for the 2019/2020 financial year but then if you get the $10,000 in 2019/2020 and continue to be active you will automatically get a $10,000 bonus in 2020/2021.
Note the way you will receive these 2020/2021 bonus payments is half in July after you lodge your June BAS with the other half in October after you lodge your September BAS. Or 25% in July, August, September and October if you are a monthly remitter.
There is a catch but these payments will only be available if you had an ABN before 12 March 2020 and have had income since 1st July, 2018 that you have reported to the ATO before 12th March 2020. This restriction does not apply to not for profits.
The Fine Print to Keep out the Rorts:
The following is from the explanatory memorandum (EM):
Need to have held an ABN on 12 March 2020; and either:
Derived assessable income from carrying on a business in the 2018-19 income year
Or
Made one or more supplies for consideration in the course of an enterprise it carried on within Australia in the tax periods commencing after 1st July 2018 and ending before 12th March 2020 and the notice of the income or supplies was held by the Commissioner (ATO) on or before 12th March 2020 or within such further time as the Commissioner allows.
The EM also states that the entity (or an associate or agent of an entity) has not engaged in a scheme for the sole or dominant purpose of seeking to make the entity entitled to the first cash flow boost or increase the entitlement of the entity to the first cash flow boost.
The ATO promptly followed this up with more detail on what they would consider a scheme:
1) Restructuring your business
2) Restructuring the way you usually pay your workers to fall within the eligibility criteria
3) Increasing wages paid in a particular month to maximise the cash flow boost amount
The ATO says that any sudden changes to the characterisation of payments made may cause us to investigate whether the payments are in fact wages.
The reference to "such further time as the Commissioner allows" is interpreted by the ATO to mean if you have a lodgement deferment that means a BAS or tax return for that period has not yet been lodged. Examples of this would be business affected by the bushfires.
Of course, they have to make sure that people who have a lazy ABN sitting around are not suddenly putting it into action to get the minimum $20,000 payment. I don't think any of us want to see that.
Don't think you can't qualify for the minimum payment of $20,000 just because you don't pay much in wages. Paying wages is a trigger point. It is all about injecting cash into the economy and it has been said that this cash flow boost can also be used to pay rent and power etc.
Take a recent example of a client who for the last couple of weeks has been employing his nephew and has asked us to set up whatever he needs to become an employer. This happens to many people each quarter. There are many industries, such as ours, that are booming in this crisis. By the way we are hiring if there are any Accountants out there with tax experience. Local food shops are also doing well. Now this client was concerned that if he registered as an employer now he may be investigated by the ATO. We had to point out that to not register as an employer would be breaking the law. These laws are well established the question is was his sole or dominant purpose in employing his nephew to get the bonus? No of course not but the onus of proof is on him. On the other side of the coin the bonus is paid automatically if he puts his nephew's wage in W1 on his BAS. Its not like he is applying for something that he is not sure he is entitled to. He is just filling out his BAS correctly.
Accordingly, we feel that if you genuinely pay someone for work they actually do for your business the ATO can't come down on you that hard. Nevertheless, this is unknown territory, you may end up having to pay the bonus back but in these current circumstances they would surely give you a manageable payment plan. The important thing is that you don't miss out if you do qualify and you don't avoid employing if you need help.
There is no way that the ATO can just say no to any new employers after all that defeats the stimulus and ignores that some businesses will thrive while others have to shed employees. Some older business people who previously didn't employ may choose to now employ young staff so the owners can self-isolate.
Maybe new employers will receive a computer generated please explain letter so make sure the wages are evidenced by an electronic bank transfer, a record of hours worked and type of work done.
What about family members that work in the business? Well they still work in the business and get paid for doing so though previously it may have been through a share of the profit. Nothing in the information released discusses companies and trusts employing their controllers. In fact the list of payments that qualify includes directors fees. Further, there have been statements made in the press by the Government that this cash flow bonus will be used to pay business rent etc so it is not expected that it all has to go on wages. Maybe choosing this year to use your trust or company to pay yourself a small wage instead of profit distribution, to qualify for the minimum bonus may not be outside the intention of the arrangement. Nevertheless, it may be caught by point 2) above. Is it simply a choice or a scheme with the sole or dominant purpose of qualifying for the bonus? Hopefully, you have paid yourself wages in the past but if this is the first time, I think you need to have a dominant purpose other than the bonus. Having said that there is no law that prevents you from paying yourself a wage and if you do that must be placed in the W1 box so you may automatically be paid the bonus and need to consider finding a way of sending it back!!!!
At BAN TACS our policy is always to play by the rules but not leave a tip. If you decide that you want to pay yourself a wage for the first time through your company or trust then we will be asking you to tell us your dominant reason for doing so and making a file note accordingly.
Note partners operating a partnership and sole traders cannot pay themselves a wage.
Property Investment Company or Trust
Technically a property investment company or trust can qualify as a small business for the purposes of the cash flow bonus. TR 2019/1 https://www.ato.gov.au/law/view/document?DocID=TXR/TR20191/NAT/ATO/00001
States at paragraphs 66 to 70 that just one commercial property held in a company, even with a property management agent, is still a business for the purposes of section 328-110 ITAA 1997. Which is the relevant section for the business entity definition.
This should be fine if you are already paying wages through your investment company or trust. If this quarter is going to be the first time you have paid wages be wary of the 3 points above in the ATO's warning. On the other side consider that if you really have to employ someone on wages to do repairs because they are not in business for the purposes of obtaining an ABN then you have to pay them as wages, that is the law.
Employing Apprentices:
The Government will pay up to 50% of your apprentice's salary for up to 9 months starting from 1st January 2020 (so you may already be entitled to back pay). The maximum payment per apprentice is $21,000 and you need to have less than 20 full time employees. The business's annual turnover also needs to be under $50 million.
This is not just applicable to your current apprentices it applies to all apprentices that were employed as an apprentice at 1st March 2020, regardless of whether it was you or a previous employer who employed them. So, you could still qualify if you now employed an apprentice as long as they had been working as an apprentice, in a small business, before 1st March 2020. Note there is no $50 million turnover test for employers who employ an apprentice, previously employed by a business with a turnover under $50 million, that has had to put the apprentice off during the period.
The payment cuts out at 30th September, 2020. The $21,000 cap is $7,000 per quarter covering the March 2020, June 2020 and September 2020. Application must be made through the Apprenticeship Support Network from early April. Claims must be lodged before the end of the 2020 calendar year. www.australianapprenticeships.gov.au This payment can also apply to trainees. https://www.dese.gov.au/
Other Cash Flow Assistance:
The government has undertaken to virtually give a get out of jail free card to any business owners that trade while insolvent in the next 6 months. Further, the threshold of minimum debt before creditors can take action has been increased to $20,000 and no real action can be taken over the next 6 months.
The government is offering to guarantee 50% of new unsecured loans of up to $250,000 that are for a term of 3 years. The business turnover will need to be $50mil or less. These loans would not require repayments over the next 6 months.
If you bank is a member of the Australian Banking Association it has agreed to allow a repayment vacation of 6 months to affected businesses. You need to apply to your bank https://www.ausbanking.org.au/banks-small-business-relief-package/